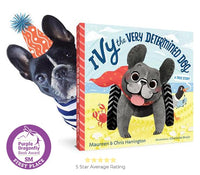 Ivy The Very Determined Dog!
$18.95 plus free shipping in the U.S.!
Ivy the Very Determined Dog is an inspiring children's book about overcoming life's challenges and finding your inner strength. Who is Ivy? The bravest (and cutest) French Bulldog you will ever meet. On her third birthday (of all days) Ivy became suddenly paralyzed in her back legs due to a rare genetic spinal disease. That has not stopped Ivy from living life to her absolute fullest.
Take Me To the Book
Customer Reviews
Inspiring. Wonderful story filled with hope, love and determination. An inspiring story for all pet owners as well as us humans alike. Love Ivy and her sister Rosie!! Have given it as a gift to pediatric hospitals and family.
Ivy is our hero! 10/10! Such a beautiful story about overcoming adversity and helping to inspire other pups and their owners going through a similar healing journey. Ivy is truly one of a kind and her story is rebarkable! 4 paws up!!!
Loved every page! Can't say enough about this book. Huge Ivy fan. Have to admit it brought a tear to my eye...great for any dog lover-5 stars. Ivy always brings a smile to my face whenever I see a new post on IG. Keep fighting like a Frenchie!
All of our books are "pawtographed" by Miss Ivy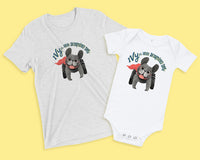 Shop Ivy Apparel!
Ivy inspires us all to never give up. Embrace your individuality. And most importantly, to always keep on rolling what ever you do and never let your troubles get the better of you. Show them at a very young age to never give up!
Shop Now
Meet the Authors (Ivy's Parents)
Meet Chris and Maureen Harrington, husband and wife, proud parents of Ivy, and authors of Ivy the Very Determined Dog. When they brought Ivy home five years ago, they knew she would fill their home with frenchie kisses and love. Never could they have imagined just how much happiness she would bring, or that she would teach them some of the most important lessons life has to offer. After Ivy became suddenly paralyzed, they searched for answers on how she could live a happy "normal" life. What came next was remarkable. They watched their little Ivy wake up each day stronger and more determined than the next. Two steps on two paws turned into running on the beach on two paws (and sometimes a little extra help from her wheels). Chris and Maureen realized that Ivy's story needed to be told. Setbacks are part of life. It's how we come out of those setbacks that shows our true inner strength. Ivy is the inspiration behind the book, but it was written to inspire children that anything is possible if you believe in yourself.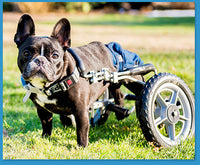 Meet Ivy. (The Very Determined Dog!)
Meet the leading lady, Ivy. Ivy is a fun-loving, silly little French Bulldog from Gloucester, MA. On her 3rd birthday, Ivy woke up in excruciating pain. She was rushed to the hospital where she was diagnosed with a rare genetic spinal disease called Interverebral Disk Disease (also known as IVDD, get it Ivy the Very Determined Dog?). IVDD has left Ivy paralyzed in her back legs. That has not stopped Ivy from living life to her absolute fullest! Ivy started an Instagram page to share health/progress updates with friends and family. Her friends started growing by the day, and her page quickly became a place to go for inspiration. Whether it is someone bound to a wheelchair, a pet owner in a similar situation looking for advice, or someone who is having a RUFF day, Ivy is there to lift their spirits and help find their inner strength. Something that was so devastating turned into something so beautiful.
Meet the (Amazing) Illustrator
Meet the creative mind that brought Ivy's story to colorful life, Charlotte Bruijn. Charlotte is freelance illustrator, graphic designer and a mother of two from the Netherlands. She has been creating joy since 2003 for children aged 0 to 100. "Lottaland" is Charlotte's happy creative studio for the young at heart. A place where characters come alive, where smiling is irresistible and where anything is possible. As you can see, her style is playful and soulful, and that's exactly how she feels while making it. A relationship that started over Instagram (and love for furry friends) has transformed a tragic story to one that will put a smile on you face, and shows the true power of determination.
Watch Ivy's real story
Seen on: Fox News, The Dodo, The Little Things, CBS Boston News